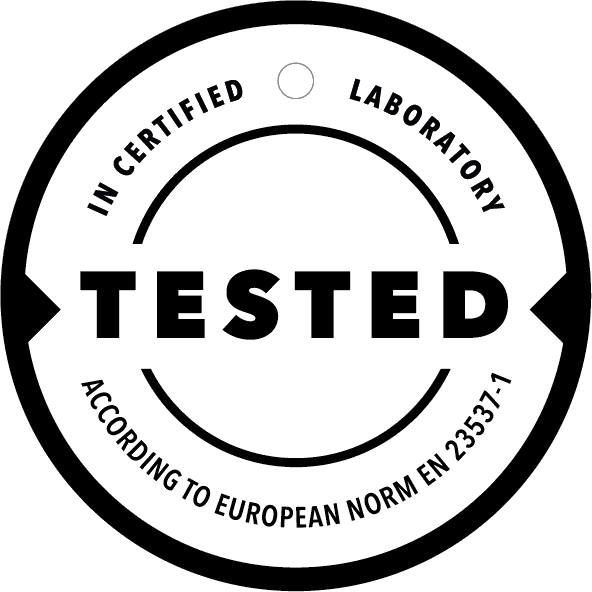 COMFORT TEMPERATURE
All our sleeping bags have "a comfort temperature" which is tested in an independent laboratory (TZÚ) in compliance with the ISO 23537-1 European regulation from 2017.
The comfort temperature (Tcomf) is the temperature at which a standard adult woman can expect to sleep comfortably in a relaxed position
COMFORT LIMIT TEMPERATURE
The comfort limit temperature (Tlim) is the temperature at which a standard man can sleep for eight hours in a curled position without waking. This rating is the lower threshold for an undisturbed night's sleep.
EXTREME TEMPERATURE
The extreme temperature (Text) is the minimum temperature at which a standard woman can remain for six hours without risk of death from hypothermia. At this temperature sleep will be severely disturbed, and frostbite is possible. You should never choose a sleeping bag according to this information as it rather informs of a level of danger.
TRANSPORT ADVICE
A sleeping bag should always be transported stuffed into its sack, the bottom part first. If you want to keep your sleeping bag fluffy and its thermal properties unchanged, don't roll it as it might tear the insulation layer and worsen its thermal properties.
MAINTENANCE ADVICE
After taking your sleeping bag out of its sack or before you pack it up again in the morning, shake it, it can improve its moisture-wicking properties. If there is no other possibility than pacing up your sleeping bag when it is moist, remember to completely dry it up as soon as possible.
STORING ADVICE
Store your sleeping bag out of its sack, unfolded and in a dry place. It's best to hang it up using its hanging loops which should be found at the bottom of any sleeping bag.

WARNING
A sleeping bag doesn't warm you up, it can only contain the warmth your body produces. If you are chilly and exhausted and get into a moist sleeping bag, you will probably be cold no matter what the properties of your sleeping bag are. The given temperatures depend on your resistance to cold (your build, how tired you are, etc.), equipment (insulation properties of your sleeping bag, etc.), clothes and climatic conditions (humidity, wind, etc.)
HOW TO IMPROVE THERMAL COMFORT?
Warm yourself up (especially your arms, legs and head) before you nestle down in a sleeping bag. Get dressed, one layer of clothes should be enough. A hot water bottle (make sure it's properly closed) can warm you up, but as the water cools down, you might have to remove it during the night. Contract your muscles (70% of spent energy transforms into warmth) but be careful not to make draught when moving. To reach optimum thermal comfort, use additional equipment such as s sleeping mat, a tent to minimize cold air flow, etc.